HOW TEACHERS & PARENTS CAN USE CRAWFORD THE CAT VIDEOS
Disclosure: I partnered with Crawford's Corner LLC to bring you this information & giveaway.
Crawford the Cat is an adorable, enthusiastic cat whose short videos on Amazon video teach kids social etiquette and healthy habits, tying into curriculum and instruction for young children. Kids will love Crawford's kind personality, the jaunty music, and appealing stories. Parents and teachers will love the important life lessons.
Recently I had a chance to speak with Lauren Engle, a 20-year experienced New Jersey kindergarten teacher. She uses the Crawford the Cat videos in her classroom to teach her students about social etiquette and healthy habits. (Go HERE to see all the videos.)
Engle told me that another teacher first introduced her to Crawford the Cat videos when she was helping her students learn about hand washing. Because Teachers share their best ideas. And they know these videos are super.
Engle uses Crawford the Cat videos in her kindergarten classroom because the videos meet all her requirements: educational, short, and connect to the curriculum. "It's nice to play a short little movie like the one about washing hands." She rarely uses videos but these are too good not to include.
Here's how Engle uses the videos:
Watch the video.
Discuss.
Model what was taught in the video.
Roleplay.
Refer back. Throughout the day and following weeks and months, she refers back to the video with her students and the lesson Crawford taught like sneezing into the bend of their arm.
Keep practicing.
Engle also recommends that for whatever topic you're teaching, whether about social etiquette or healthy habits to also "read books that have a similar situation." Just as with the video, she explains that it's beneficial for children to stop and discuss the story. You might ask, "was it a wise choice or a sad choice?", "what could be done differently?" and any questions that will help children think critically about the story. Another way to reinforce the learning is to role play.And good news! Crawford the Cat has 7 online E-Books that connect to the videos' lessons seamlessly. Read the books silently or follow along as Crawford reads to you. For example, The Sneezer Pleaser book reinforces the "Crawford is a Sneezer-Pleaser" episode 5 video found on Amazon Video. These would be great to read at home, too.
"Throughout the day, seize those teachable moments," Engle says. "This is what we are doing now, and this is what we could do better."
"I just learned that Crawford the Cat's website has printouts that go with it," Engle told me. In fact, there are videos, books, printables, lesson plans, and games. What a great resource for teachers! Discover additional free Crawford the Cat companion materials for young children here.
Don't miss the Crawford Teacher's Store which has lesson plans ($2.99 each) and incentive stickers!
"Kids think Crawford's really cute," elaborates Engle. "I recommend the videos for preschool, kindergarten, and first grade."
Parents and teachers both can use these videos to teach and reinforce the following concepts:
Hand washing
Teeth brushing
Cleaning up
Exercising
Covering sneezes
Including others
Working hard
Table manners
Dressing for the weather
Trying new foods
Saying please and thank you
Engle says she also mentions the videos to parents at conference time and in her newsletter. For example, she's excited about the upcoming Crawford the Cat's Christmas video. Since her school tries to stay neutral on holidays so she will mention it in a newsletter instead of showing it in the classroom. She hopes parents will watch it with their kids at home.
If you're not a teacher, please pass on this information to teachers you know!
Crawford the Cat's Christmas Video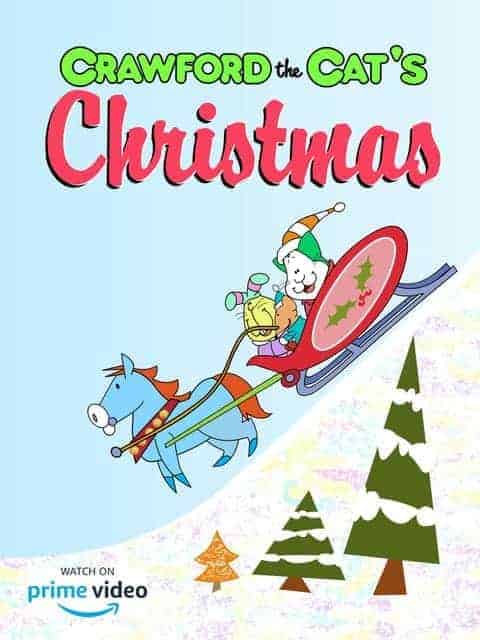 In a brand new video, "Crawford the Cat's Christmas," streaming for free now on Amazon Prime, Crawford is excited to sled, see his friends, get a Christmas tree, and visit with his favorite Aunt Kittypet. It's 20 minutes of charming Crawford fun and special Christmas moments that you won't want to miss. I love that it's kid-friendly, appropriate content. Kids just love the story.
Non Amazon Prime members can purchase the video for $4.99 (HD) / $2.99 (SD) or rent the video for $1.99 (HD) / $0.99 (SD).